Hi! My name is Mrs. Emily Huang and I am your Librarian at Blacklock Fine Arts.
My goal is to instill a love of reading in all our students by encouraging great reading habits, finding just the right book,and exploring new genres.
Come explore and inquire in our wonderful library!
June 2017
Spring has been exciting in the library this year!
Caitlyn and Ruby's Bookmark Sale
Two Blacklock intermediate students, Caitlyn Nichol and Ruby Figueroa, took the initiative and organized a Bookmark Sale in February. They created beautiful, one of a kind bookmarks that were sold at recess and lunch with all proceeds going towards purchasing new books for the library.
Thank-you Caitlyn and Ruby for all the new books!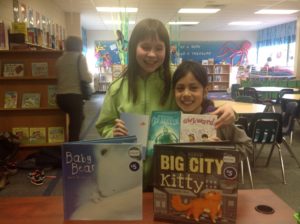 In April, the library adopted two gerbils from the Richmond BCSPCA. The two sisters, Beverly and Deanna, love to chew boxes, run on their wheel, and make tunnels throughout their tank. Feel free to come pop in for a visit to meet these adorable sisters!
End of the Year Book Returns
It has been a wonderful year of library classes and book exchanges. But all good things must eventually come to an end. The last book exchange, for all divisions, will be on Tuesday, June 13th, 2017. All books are then due the following Tuesday (June 20th). Lost books/Overdue notices will be sent home on Wednesday, June 21st. Thank-you in advance for searching for those pesky books that like to hide in bizarre places around the house and sometimes even in the car!