October was a spooktacular month in the Library Learning Commons!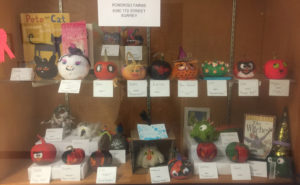 Pumpkin Decorating Contest
The Pumpkin Decorating Contest was a huge hit! Over 170 pumpkins were carefully and creatively decorated by our students and staff. Even one of our Grandmas from our Reading with Seniors program submitted a pumpkin. Our judges had a difficult time choosing only four winners!
May I have a drum roll please….
The winners are:
Best Book Character: Emma Young (Division 9) with "Pete the Cat"
Best Superhero: Brayden Cahoon (Division 1) with "Black and Red Superman"
Best Red and Black: Aubrey Prieto (Division 3) with "The Raven"
Best Unique Pumpkin: Diego Medina-Jarcic (Division 2) with "Emmett from The Lego Movie"
Congratulations to all our contestants!
Used Book Sale
Thank-you to everyone for donating or purchasing books at our Blacklock Used Book Sale! Funds raised will be used to purchase new books for the library. The grand total was $71.25!
Mrs. Huang will be accepting book donations continually throughout the year. So, please think of the library when you are purging your book shelves at home!
This year, Library Ninjas officially became one of Blacklock's Leadership Clubs.
Our new Library Ninjas have been busy setting up the Used book Sale and being trained to help Mrs. Huang run the library. Keep your eyes peeled because you never know where these ninjas will strike next!