April 18, 2019
The staff and students of Blacklock packed alot of activities into this short week!  Today, our Glee Club performed at the Maple Hills Seniors' Centre and brought some joy into the lives of some of our senior citizens.  It was my privilege this morning to attend the Langley School District's 12th Annual Elementary & Middle School Semi-Finals Speechfest.  Montana B. and Sabine F. represented our school and astounded the judges with their speeches.  Montana took first place and we look forward to her representing us at the Finals at the District Office on April 26.  Sabine should be very proud of her achievement as well; if it had been up to me, she too would have placed as one of the finalists.  Tuesday evening, the Dragon Pod showcased their pod show 'Candy Is Best' and managed to not only entertain, but educate the audience about the importance of healthy eating and a balanced lifestyle.  Through their fundraising efforts, they raised over $160 dollars towards their Garden Project.  While I was out of the building at a District meeting, two of our staff members, who shall remain nameless (too bad I have photo evidence), demonstrated the mischief that happens when I'm away.  Apparently, they were creating props for the upcoming Phoenix Pod Show happening on Wednesday, May 1, @ 6:00pm.  Please mark the date in your calendar, as this is one you don't want to miss.  On behalf of the staff of Blacklock, we would like to wish you all a very happy and safe Easter weekend.
Glee Club

Speechfest 2019 took place today

Dragon (Grade 2/3) Pod Show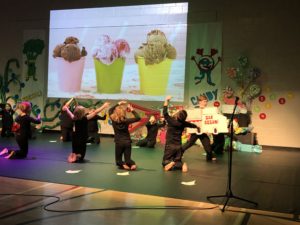 Phoenix (Grade 4/5) Pod Show 'Preparations'

In support of the PAC fundraisers, we have Purdy's chocolate bars ($2 each) and Pub Night Fundraiser tickets ($25 each) for sale in the office.
SUMMER SCHOOL 2019
If you're considering sending your child to summer school this July, please click on the following link for detailed information –> SS 2019 Elementary Brochure – April 12 2019
MESSAGES FROM THE PAC

The Blacklock PAC has organized a Mothers' Day Fundraiser for our school through local Darvonda Nurseries.  Help support them by purchasing a 10 inch hanging basket for $16, a 12 inch hanging basket for $20, or a small "petal pot" potted plant for $7.50.   Orders are due today and can only be made online through https://munchalunch.com/schools/blacklock/
Pickup will be at the school entrance on April 30 at 2:45pm.
—————————————–
The annual Pub Night Fundraiser, will be taking place on Friday, April 26th, 6:30pm to 8:30pm at the Townhall Public House, 19640 64 Avenue, Langley.  Tickets are $25 each (which includes a burger, fries, and a drink) and can be purchased at the Office.
Please support our PAC in their fundraising efforts!
SCHOOL SUPPLIES FOR 2019/20
Edupac order forms for September's school supplies went home last week.  This is an opportunity for you to get all your school supplies shopping done early and in one place!  The supplies will be delivered to your child's classroom before the end of June.  If you want to participate in this handy service, please have your order forms returned to the school by Thursday, April 25.  Extra order forms are available at the Office.  If you choose to purchase next year's school supplies on your own, the list is posted on our website under 'Our School', or you can click here –> 2019/20 School Supplies List
CALENDAR
Here are the upcoming calendar updates:
April 19 – April 22 –  Easter Break – School Not In Session
April 26 – Treat Day ($1.00/each, limit 1 per student)
– Pub Night Fundraiser @ Town Hall – 6:30pm-9:30pm
May 1 – Phoenix (Gr.4/5) Pod Show @ 6:00pm
May 3 – Professional Development Day – No School for Students
May 6 – Class Group Photo Day
May 7 – AGM PAC Meeting @ 9:00am
May 9 – Collaboration Day – Dismissal @ 1:30pm
May 10 – Hot Lunch Day
May 16 – Early Dismissal for Kindergarten students @ 10:45am
– Welcome to 'K' – 1:30pm-2:30pm for Incoming Kindergarten students
May 17 – Treat Day ($1.00/each, limit 1 per student)
May 20 – Victoria Day – Statutory Holiday – School Not In Session
May 24 – Divisions 1-4 Field Trip to Surrey Children's Festival
– Concert Violin at Fraser Valley Kiwanis @ 3:35pm
May 27 – Hot Dog Hot Lunch Day
May 27 – May 31 – Grade 5s to Al Anderson Pool for Swim Lessons
May 31 – Treat Day ($1.00/each, limit 1 per student)
Have a great weekend!
Susanna Eppich, Principal