December 12, 2019
The countdown continues as we swiftly approach the last week of school for 2019!  As part of the ICBC and RCMP Drinking Driving Counterattack, our students were asked to decorate bags and write powerful messages about drinking and driving and staying safe during this holiday season.  Today, our RCMP School Liaison, Constable Irwin, picked up the brown paper bags so that they could be delivered to the local BC Liquor Stores for distribution.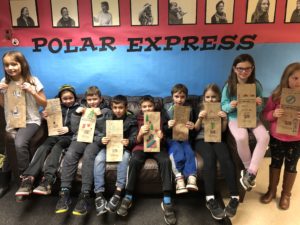 Term 1 Report Cards will be published online tomorrow.  You will receive an e-mail advising you when they are available for viewing through the MyEdBC Family Portal.  Please download and save a PDF copy to your computer for your records, as they will only be available for viewing until the next report card comes out.  Please note that the MyEdBC system will be temporarily unavailable due to scheduled maintenance during the Christmas break from Friday, December 20 @ 5 pm until Monday, December 30 @ 8 am.  For help on how to login, click here  –>  SD35 Family Portal
The Blacklock Parent Advisory Council works very hard to raise money and support our school in many ways.  They regularly write a PAC Newsletter that contains valuable information.  You can access this newsletter by clicking on the link listed under the Information From The Parent Advisory Council "PAC" section below (click on the date) OR by going to the Parent Community tab on our school website and clicking on the PAC Newsletters and Minutes link.
Remember………a new Blacklock Bedtime Story will be posted on:  Youtube: The Mischievous Librarian every Thursday night at 6:00pm.  Be sure to check it out!  If you haven't watched previous episodes, they can be found there also.
Points have been added to each of the houses.  Here are the current standings:
Monkeys – 5,268; Parrots – 4,570; Geckos – 5,749; and Jaguars – 4,375.
Have a great weekend!
Susanna Eppich, Principal
INFORMATION FROM THE Parent Advisory Council "PAC"
The PAC Meeting was held on Monday evening.  Thank you to everyone who attended and volunteered to ensure that our upcoming Pancake Breakfast will be a wonderful event for all!  I'd like to thank all of the PAC and especially the executives for their hard work and dedication to our school.
Click here—->  December 12, 2019  for the latest PAC Newsletter.
CHRISTMAS
Our Christmas Concert will take place on December 19 at 6:00pm and all are welcome to attend!  Our annual Pancake Breakfast with Santa will take place on Friday, December 20.  Please send your child with a $2 donation that morning, which will go towards raising funds for Christmas hampers for Blacklock families.  We ask that you still feed your child breakfast that morning, as pancakes are served between 9am and noon.  Volunteers are also needed to help with the many tasks involved.  Please let the office know if you can help by volunteering at either of these events.
MISCELLANEOUS
Registration for 2020/2021 Kindergarten will begin on Monday, January 20, 2020.
See below for a link to support home learning over the holidays.  Here, you will find many great activities and ideas to encourage your child to continue their learning during the holiday period.  We encourage you to check out the link, as we don't want our students to lose any gains they have made in the last few months.   Click here —> Home Learning Over the Holidays
CALENDAR
Here are the upcoming calendar updates:
December 13 – Term 1 Report Cards Published
December 19 – Christmas Concert @ 6:00pm
December 20 – Pancake Breakfast with Santa – 9am to Noon
December 21 – January 5 – Christmas Break
January 6 – School Reopens
---
For access to our District Community Bulletin Board, please click here:  Community Bulletin Board.      There are always new flyers that may be of interest to you.