December 13, 2021
Good Afternoon everyone!  Four days to Christmas Break!
I would like to take this opportunity to sincerely thank our dedicated PAC and especially our Fundraising Coordinator Lindsey Bain for all their hard work in raising $1,128.49 through Purdy's, $1,533.00 through Neufelds, and $8,049.49 through the Community Values Fundraiser Book for a total amount of $10,710.98!  This is incredible and our school is so grateful!
Today we had our door decorating parade.  Santa will be judging and announcing the winning door on Friday.  The prizes will be awarded in the New Year as follows: 3rd place – ice cream party; 2nd place – popcorn and a movie; 1st place – PJ Pizza party.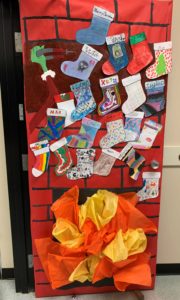 Students can earn lots of House points this week by participating in the theme of the day as follows: tomorrow is Red and Green Day, Wednesday is Holiday Hat Day, Thursday is Twinkle & Sparkle Day, and Friday is PJ Day.
This Thursday, December 16 @ 4:30pm, Blacklock Fine Arts will be hosting an Outdoor Christmas Concert on the blacktop outside the Gym.  Please have your children arrive back at their regular line up door at 4:15pm wearing their warm winter woolies.  The teachers will bring them inside to prepare for the concert.  They will be performing in groups after which they will be dismissed into your care for the remainder of the concert.  The concert will culminate in a performance by the Staff.  There will be some tents set up to provide shelter for families.
On Friday, December 17th, at 11:15am (regular eating time) a Pancake Brunch will be served and includes three pancakes, a juicebox, and a mandarin orange.  Please make sure that your child has breakfast at home before coming to school and brings their water bottle and regular snacks to eat throughout the day.  To defray the cost of the pancake brunch, we are requesting families to submit $3 per child through Munchalunch.  Parents, please note that this event is for students only.  A big thank you to all the parents who helped make this happen!
Thank you for all your support in raising funds for Christmas Hampers through our In-School Purdy's Chocolate Bar Fundraiser!  Sales have concluded and through all our combined efforts, we were able to raise $1,300 for this special cause!
Lost and Found items have been laid out in the hall outside the Gym.  Students are asked to walk by and see if any of the items belong them.  Anything that is not picked up by Friday, December 17 will be donated to charity.
If your child will be absent from school for any reason, please remember to let us know either by phone 604-530-318 or by e-mail at BFAAttendanceVoicemail@sd35.bc.ca
With the holidays approaching, some parents have requested information about traveling outside of Canada and what this means for their children upon their return.  The District has provided details about this on the Daily Health Check form here.  (You will find this information halfway down the form.)
BCCDC Vaccination for Children Aged 5-11
The COVID-19 vaccination is now authorized by Health Canada for children five and older. Getting young people vaccinated helps protect them and the people around them. The Langley Schools District is supporting the efforts of public health and is sharing this resource from the BC Centre for Disease Control COVID-19 Vaccination for children 5-11 years old here. You can also review an Immunize BC FAQ resource here.  Parents can register their child in the Get Vaccinated System to be notified of when their child can get vaccinated. The vaccines are free and children do not need BC Care Cards to receive them. If you have any questions about your child's health, please contact public health or your medical provider. 
Student Safety Around Schools 
With the days growing shorter and the heavy rain, fog, and frost, we are sharing a reminder to all our students to take extra precaution when walking to and from school. Please be aware of your surroundings, walk with someone whenever possible, and avoid wearing headphones. We also ask drivers in our school community to be vigilant on our roads. We encourage families to speak with their children about what they can do to stay healthy and safe. Student safety is our priority. Thank you for your cooperation and support.
With the holidays approaching, some parents have requested information about traveling outside of Canada and what this means for their children upon their return.  The District has provided details about this on the Daily Health Check form here.  (You will find this information halfway down the form.)
Please continue doing the Daily Health Check with your child and keep them home if they have any symptoms.  As per Public Health, students who develop any symptoms (cough, fever/chills, loss of sense of smell/taste, difficulty breathing, sore throat, loss of appetite, extreme fatigue/tiredness, headache, body ache, nausea, diarrhoea) need to be closely monitored and testing is recommended.  You must stay at home until you receive the test results and symptoms have cleared.  Following these guidelines helps to keep our community safe.
Merry Christmas and Happy New Year everyone!  See you in 2022!
Susanna Eppich, Principal
House Points are as follows:
Dragons – 8,010; Elves – 7,445; Hobbits – 8,013; Wizards – 8,907
MESSAGES FROM THE BLACKLOCK PAC
For instructions and a link to sign in to Munchalunch go to:  MunchaLunch Instructions
Here's the latest PAC Newsletter –> PAC Blast – December 2021 Volume 8
PAC Minutes
October Minutes Draft
September 2021 PAC minutes
Previous PAC Newsletters:
PAC Blast – October 2021
PAC BLAST – October 2021 Volume 2
PAC Blast – October 2021 Volume 3
PAC Blast – October 2021 Volume 4
PAC Blast – November 2021 Volume 5
PAC Blast – November 2021 Volume 6
COVID-19 IMPORTANT INFORMATION
Our District's procedure is for all students to complete a daily health check at home prior to entering school and/or boarding a District bus. The Ministry of Education's Daily Health Check poster has been updated to reflect new federal regulations regarding international travel. The symptoms listed remain the same. You can find the updated print version here. The updated version is being translated into multiple languages, which will be posted to the Ministry's COVID-19 Safe Schools website here. Families can also continue to use the Ministry's mobile app or online version here.  Please remember to advise the office if your child will be late or staying home for any reason.  Any visitor who enters the building must wear a mask, hand sanitize, and complete the sign in log at the Office.
CALENDAR
Here are the upcoming calendar events:
December 14
Red and Green Day
Hot Lunch Day (White Spot)
December 15
Holiday Hat Day
Purdy's Orders delivery
December 16
Twinkle & Sparkle Day
Outdoor Christmas Concert @ 4:30pm
December 17
PJ Day and Pancake Brunch with Santa
Last Day before Christmas Break
January 4
School Reopens (Yes, it's a Tuesday)
---
For access to our District Community Bulletin Board, please click here:  Community Bulletin Board. 
There are always new flyers that may be of interest to you.