December 14, 2018
Last night was our annual Christmas Concert……Congratulations to all of the students and the staff for a most wonderful evening!  I hope this has put you in the festive spirit as we get ready for our last week of school before the Christmas break.

At the end of the day today Term 1 Report Cards will be published online.  You can access your child's report card through the MyEd BC Family Portal.
For help on how to login, click here  –>  SD35 Family Portal
This is a reminder that on Thursday, December 20, the PAC has organized a Christmas Dance to take place in our Gym at 5:30-7:30pm.  You can order tickets on paper with cash (order forms were sent home with your child) or on www.munchalunch.com/schools/blacklock.
CHRISTMAS OPPORTUNITY
As a unique Christmas opportunity, the Office is selling some chocolate covered large sour keys for $5.00/package of four.  These make great stocking stuffers, so if you're interested in taking advantage of this, please stop by the Office to buy one, or two, or three, or ……..

LOST & FOUND
All lost and found items have been laid out in the hallway outside the Gym.  Please come by and pick up anything that belongs to your child.  Whatever is not claimed by the end of the day on Friday, December 21, will be donated to charity.  Here are some pictures of the lost clothing: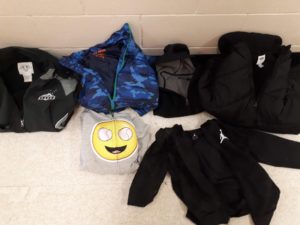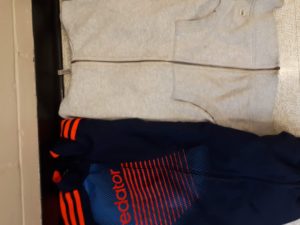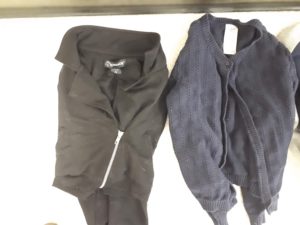 GLEE CLUB
Congratulations Glee Club on bringing lots of joy to the senior citizens at the Langley Memorial Hospital this week!  I'm sure they appreciated it!

BEAR HIBERNATION PROJECT
The Kindergarten students have been working hard on their bear hibernation project and we thought you might enjoy watching a brief video of their work:  Bear Hibernation Project 2018
TOYS NO MORE
We are implementing a strict 'No Toys At School' policy effective immediately.  Classrooms have a variety of different games, cards, lego, blocks, and other activities that are connected to learning and are available to students during indoor playtime.  When students are outside, we need them to be running and playing so that they burn energy and are ready to return to the classroom setting.  The toys that your children are bringing from home are causing problems when they are lost, not shared, taken without permission, etc.  If toys show up at school, they will be taken to the 'Toy Daycare' where they will hang out until the end of the school day.
INFORMATION ABOUT SCHOOL STATUS DURING INCLEMENT WEATHER
Snow closures and power outages are an annual occurrence in Langley School District. So where do you go to get information about the status of schools during periods of inclement weather? If you are able to access the internet via computer or smartphone, current information about Langley schools can be accessed on all school websites orwww.sd35.bc.ca. Updates are also posted to Twitter @LangleySchools and Facebook at www.facebook.com/langleyschooldistrict. If you don't have internet connectivity but your phone is working, call a relative or friend in an area that has not been affected by the storm and ask them to check the district website for you. Local radio stations are also informed of school status in Langley. Tune in to CKWX 1130AM, CKNW 980AM, Country Radio 107.1FM, Pulse 107.7 or CBC 690AM or 88.1FM for updates.
 Please note that Langley District schools are all considered 'open' until a decision to close is required. Decisions on school closures are usually made by 6:30am. As always, it is a parent's decision whether to send their child to school based on safety and individual circumstances. If you feel it is unsafe for you or your child to travel to or attend an open school for any reason, please keep your child home and report an absence to the school. from my iPhone
SAFETY ISSUES
We remind you that, at ALL times, ALL the parking lots are off limits to students.  They are not to be used for playing tag, riding scooters, bikes, etc.  ALL pedestrian traffic, including parents, are to remain behind the metal fence and on the marked pathways.  For those students who line up at Door 'B', please remind them of these rules.  They are for your children's safety.
It has come to our attention that some families have been made aware of a possible person of concern who may be in our neighbourhood.  We remind parents that there are always people who pose a risk to our children in the area (we just don't always know about them) and it is important that we teach our children to not talk to strangers, not walk alone, and to report any unusual activity to their parents or school staff.  We have also noticed that there are many of our students who do not know their parents' phone numbers.  Please take some time to teach your children your phone number.
MISCELLANEOUS
We have extra calendar magnets available.  If you would like an extra one, please come by the office to pick one up.
There is an opportunity for students in Grade 4 and 5 to get a deal on a 'Snow Pass', which offers a ski/snowboard pass for $29.95.  If this sounds like something you might be interested in, you can get more details by clicking here –> SnowPass Brochure 2018
CALENDAR
Here are the upcoming calendar updates:
December 14 – Term 1 Report Cards published online
December 20 – PAC-sponsored Christmas Dance – 5:30pm-7:00pm
December 21 – Pancake Breakfast with Santa & Last Day before Christmas Break
January 7 – School Reopens
January 8 – PAC Meeting @ 9:00am
January 14 – Early Dismissal @ 1:30pm for Collaboration Day
Have a great weekend everyone!
Susanna Eppich, Principal
---
For access to our District Community Bulletin Board, please click here:  Community Bulletin Board.      There are always new flyers that may be of interest to you.