December 20, 2018
It's been a great lead up to our Christmas break!  Tonight our PAC is hosting our Christmas Dance from 5:30pm to 7:30pm.  Tickets will be available at the door for $5 each.  As there is no supervision this evening, parents are requested to accompany their child to the dance.  Tomorrow morning is our annual Pancake Breakfast with Santa.  A donation of $2, which will go towards supporting our community's needy families, will be collected by your child's teacher.  Please make sure your children eat breakfast at home before they come, because the pancake breakfast will not commence until 9:00am and many divisions will be eating closer to the regular lunchtime.  Thank you to all of the parents and volunteers, including the Langley City Fire Department, for all of your support in making these two events a huge success!
The Dragon's Tale Challenge
Dear Blacklock Families,
There will be a reading challenge beginning on the first day of Christmas break.  Blacklock students have been challenged by Norbert the Dragon to read as many books as they can!
Each student will receive a bookmark to keep track of their reading.  The challenge is to complete as many bookmarks as possible.  Grade K-3 need to record every 10 minutes of reading on their bookmark and Grade 4-5 need to record every hour of reading on their bookmark.  You can get extra bookmarks from the teacher.  Hand in your completed, coloured bookmark and receive a scale which will be added to Norbert the Dragon's tail.  If you have any questions, please talk to your teacher.
Below you can find a link to the video to introduce this challenge.  Thank you to the staff for their hard work, especially Mrs. Schmuland for her creative genius!         Norbert the Dragon
TOYS NO MORE
We are implementing a strict 'No Toys At School' policy effective immediately.  Classrooms have a variety of different games, cards, lego, blocks, and other activities that are connected to learning and are available to students during indoor playtime.  When students are outside, we need them to be running and playing so that they burn energy and are ready to return to the classroom setting.  The toys that your children are bringing from home are causing problems when they are lost, not shared, taken without permission, etc.  If toys show up at school, they will be taken to the 'Toy Daycare' where they will hang out until the end of the school day.
INFORMATION ABOUT SCHOOL STATUS DURING INCLEMENT WEATHER
Snow closures and power outages are an annual occurrence in Langley School District. So where do you go to get information about the status of schools during periods of inclement weather? If you are able to access the internet via computer or smartphone, current information about Langley schools can be accessed on all school websites orwww.sd35.bc.ca. Updates are also posted to Twitter @LangleySchools and Facebook at www.facebook.com/langleyschooldistrict. If you don't have internet connectivity but your phone is working, call a relative or friend in an area that has not been affected by the storm and ask them to check the district website for you. Local radio stations are also informed of school status in Langley. Tune in to CKWX 1130AM, CKNW 980AM, Country Radio 107.1FM, Pulse 107.7 or CBC 690AM or 88.1FM for updates.
 Please note that Langley District schools are all considered 'open' until a decision to close is required. Decisions on school closures are usually made by 6:30am. As always, it is a parent's decision whether to send their child to school based on safety and individual circumstances. If you feel it is unsafe for you or your child to travel to or attend an open school for any reason, please keep your child home and report an absence to the school.
SAFETY ISSUES
We remind you that, at ALL times, ALL the parking lots are off limits to students.  They are not to be used for playing tag, riding scooters, bikes, etc.  ALL pedestrian traffic, including parents, are to remain behind the metal fence and on the marked pathways.  For those students who line up at Door 'B', please remind them of these rules.  They are for your children's safety.
It has come to our attention that some families have been made aware of a possible person of concern who may be in our neighbourhood.  We remind parents that there are always people who pose a risk to our children in the area (we just don't always know about them) and it is important that we teach our children to not talk to strangers, not walk alone, and to report any unusual activity to their parents or school staff.  We have also noticed that there are many of our students who do not know their parents' phone numbers.  Please take some time to teach your children your phone number.
LANGLEY SCHOOL DISTRICT KINDERGARTEN REGISTRATION OPENS Monday, January 21, 2019
All children who will be five years old by December 31, 2019 (children born in 2014) are eligible for the Kindergarten program beginning September 3, 2019.
Registration opens Monday, January 21, 2019 and will be open until noon Monday, April 1, 2019. All registration takes place at neighbourhood schools and is not available at the School Board Office. Registration is not available during spring break (March 18 to March 29).
The following documents are required at the time of registration:
Student Proof of Age (Birth Certificate or Passport).
Parents Proof of Canadian Citizenship or Permanent Resident Status (Canadian Birth Certificate, Canadian Citizenship Card, Canadian Passport, Secure Certificate of Indian Status (SCIS/Status Card), Permanent Resident card, Refugee documents from Immigration Canada), and
Parents Proof of residence (BC Driver's License, utility bill or Mortgage Papers, Property Tax Notice,  Subject-free purchase agreement (move in date within 6 months).
If able, please bring your vaccination records (optional).
————————————————————————————————————————————
Check out the information regarding SD#35's Outdoor Ed choice program…….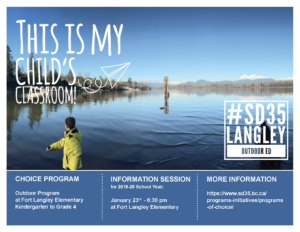 MISCELLANEOUS
Last chance for picking up any Lost and Found items will be by Noon tomorrow, December 21.  After that time, any clothing or items left behind will be donated to a local charity.
CALENDAR
Here are the upcoming calendar updates:
January 7 – School Reopens
January 8 – PAC Meeting @ 9:00am
January 14 – Early Dismissal @ 1:30pm for Collaboration Day
Have a Merry Christmas and a Happy New Year everyone!
Susanna Eppich, Principal
---
For access to our District Community Bulletin Board, please click here:  Community Bulletin Board.      There are always new flyers that may be of interest to you.