January 31, 2019
This past Friday, and continuing for the next three Fridays, students have/will be participating in Explorations Activities.  They had the opportunity to select from a variety of different activities that our staff are sharing with them from 1:30pm-2:30pm.  Some examples of the activities are Make & Do, Knitting, Yoga, Theatre Tech, Lego, etc.  Please ask your child which activity they signed up for and how they enjoyed the first week.
Here is a Hogwart's House Points update:  Gryffindor – 3,020 Ravenclaw – 2,920 Hufflepuff – 2,760 and Slytherin – 2,693
Tomorrow, we encourage all students to wear their house shirts for points…..perhaps, if you don't remind your children to wear them, the Slytherin team (Staff) might have a chance to catch up!
SPRING BREAK CAMP - SUPERHERO ACADEMY
This unique opportunity for Grades K-5 students is part of a wonderful community partnership between Simon Fraser University and the Langley School District.  During the four-day Superhero Academy, children will participate in a number of different activities such as games, literacy, art, science, math, and of course – FUN. The daily focus will be on teamwork, kindness, courage and creativity.  This free camp will be hosted at Nicomekl Elementary School and is a great opportunity for our families!
If interested, you must register at Nicomekl and there is limited space so first come-first served!  REGISTRATION OPENS ON MONDAY FEBRUARY 4TH.
Superhero Academy Nicomekl 2019
KINDERGARTEN REGISTRATION NOW OPEN
All children who will be five years old by December 31, 2019 (children born in 2014) are eligible for the Kindergarten program beginning September 3, 2019.
Registration is open now and will be open until noon on Monday, April 1, 2019. All registrations take place at neighbourhood schools and is not available at the School Board Office. Registration is not available during spring break (March 18 to March 29).
The following documents are required at the time of registration:
Student Proof of Age (Birth Certificate or Passport).
Parents Proof of Canadian Citizenship or Permanent Resident Status (Canadian Birth Certificate, Canadian Citizenship Card, Canadian Passport, Secure Certificate of Indian Status (SCIS/Status Card), Permanent Resident card, Refugee documents from Immigration Canada), and
Parents Proof of residence (BC Driver's License, utility bill or Mortgage Papers, Property Tax Notice,  Subject-free purchase agreement (move in date within 6 months).
If able, please bring your vaccination records (optional).
————————————————————————————————————————————
If interested, you can check out the information about SD#35's Outdoor Ed choice program…….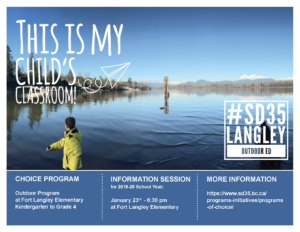 Blacklock Talent Show
It's once again time to celebrate the many talented students we have at Blacklock!  Please join us for auditions taking place from February 12th – 22nd , 2019. Please sign up on the forms outside of the office. Any talents are welcome. In the past we have had students dance, sing, perform monologues or poetry, tell jokes, perform magic tricks, demonstrate karate moves, play instruments, show their gymnastics skills, and share many other things.  Any ideas you have are welcome!
If your act is selected you will be performing on March 7th, 2019 at 1:15 for the students in the school and at 6:00 for parents and family members. Tickets will be available for purchase closer to the date.
We look forward to seeing your talents!
If you have any questions, please contact Mrs. Cheryl Hillier at chillier@sd35.bc.ca.
The Dragon's Tale Challenge
Blacklock students have been challenged by Norbert the Dragon to read as many books as they can!
Each student received a bookmark to keep track of their reading.  The challenge is to complete as many bookmarks as possible by the end of June.  Grade K-3 need to record every 10 minutes of reading on their bookmark and Grade 4-5 need to record every hour of reading on their bookmark.  You can get extra bookmarks from the teacher.  Hand in your completed, coloured bookmark and receive a scale which will be added to Norbert the Dragon's tail.  If you have any questions, please talk to your teacher.
CALENDAR
Here are the upcoming calendar updates:
February 4 – Hot Lunch Day
February 5 – PAC Meeting @ 7:00pm
February 6 – Early Dismissal @ 1:30pm for Collaboration Day
February 12-22 – Talent Show Auditions
February 15 – Pro-D Day – No School for Students
February 18 – Family Day – No School for Students
February 22 – Treat Day – $1.00 each/limit 1 per student
February 25 – Report Card Preparation Day – Early Dismissal @ 10:45am
March 1 – Hot Lunch Day
March 5 – PAC Meeting @ 9:00am
March 7 – Talent Show @ 6:00pm
March 8 – Term 2 Report Cards Published
– Treat Day – $1.00 each/limit 1 per student
March 11 – Hot Lunch Day
March 12 – OWL (K/1) Pod Show 'Seasons' @ 9:15am
March 13-14 – Parent/Teacher Interviews – Early Dismissal @ 1:45pm
March 15 – Last Day Prior to Spring Break
April 1 – School Reopens
Have a great weekend!
Susanna Eppich, Principal
---
For access to our District Community Bulletin Board, please click here:  Community Bulletin Board.      There are always new flyers that may be of interest to you.