February 26, 2021
This has been a very busy and interesting week.  Yesterday, the Blacklock Community received its first COVID notification letter.  Thank you for coming together in support of each other.  Despite this sad news, Blacklock celebrated Diversity and Respect Week along with all of the other schools in the District.  Students were given a 'You Belong Here' button and sticker at the start of the week in an attempt to convey the feeling of belonging, especially since the students have felt isolated as we must adhere to our cohort groups.  I reflected this week on the fact that I have not seen our entire student body together in one space, except during a fire drill.  Typically, this week, we would have held a number of school wide assemblies.  I look forward to the day when this will once again be possible.  In the meantime, we tried to symbolically represent our entire school by creating a Rainbow Unity Wall with special messages of encouragement made by students for fellow students. Here are a few of the photographs that capture the spirit of the week.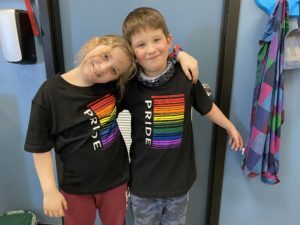 Students enjoyed Andy the Musical Scientist this week.  A big thank you to Mr. Huang for organizing this educational and fun presentation.  Take a moment to talk with your child about the performance and what they enjoyed the most.  Perhaps, they will even get creative this weekend and make their own musical instrument from things found in their house.

Report Cards will be published next week on Friday, March 5.  Parent/Teacher Interviews will take place on Wednesday and Thursday, March 10 & 11.  Please watch for e-mails from your child's teacher with clarification on what that will look like.  This also means that those days will be Early Dismissal Days, where students will be dismissed at 1:30pm.
A student from Mrs. Schmuland's class wanted to share a little bit about her special New Year Celebration.  The video is called "The Spring Festival".  This was shared on Tuesday, when we celebrated our cultural heritage.  Well done!
In one of our Grade 4/5 combined classes, the students have been reading and studying the novel Underground to Canada.  They have been discussing some African-American Spirituals, one of which, Sweet Honey in the Rock singing "Wade in the Water", had them analyzing the biblical allusions in the song as well as looking for some of the "code words" that referenced things in the underground railway.

Reminder that if you have a child at home that will be turning 5 this year and you plan to send them to Kindergarten in September, registration is underway.  Please see below for more details.
House points are as follows:
Mome Raths – 13,509; White Rabbits – 12,015; Cheshire Cats – 12,777; Deck of Cards – 13,005
Have a good weekend!  Ten days until Spring Break!
Susanna Eppich, Principal
RAINBOW SIDEWALK
The Langley Board of Education is pleased to announce it has successfully reached its fundraising goal to support the installation of a rainbow crosswalk in our community. The rainbow crosswalk will link the School Board Office to the Langley RCMP detachment. The Board believes the rainbow crosswalk is a symbol of diversity and inclusion which will ensure everyone in our community feels safe, seen, represented, and that they belong. Thank you to all of our donors and supporters who have supported this initiative. You can learn more about the project on our District website here.
TRUSTEE BY-ELECTION
The District is reminding our families that a Trustee By-election is taking place on Saturday, February 27th from 8am – 8pm, to fill a vacant seat on our Langley Board of Education. We encourage all eligible voters in the Township of Langley to exercise their right to vote and help contribute to creating An Innovative, Inspiring and Unified Learning Community. 
For more information on candidates and where to cast your ballots, please visit this webpage here.   
CALLING ALL DESIGNERS
Put on your thinking cap and pack your bag with ideas
Chloe Kim is a Grade 12 student at Walnut Grove Secondary. As part of her graduating Capstone Project, she has carefully formulated an ambitious plan – to design, produce, market and sell an environmentally friendly tote bag throughout the Langley School District and community. As a way to involve her fellow students, she has put forth a challenge. "Design an image that will become the symbol that merges environmentalism with philanthropy. The winning design will be featured on the tote bag," she says.
In partnership with the Langley School District Foundation, Chloe hopes to transport her message and marketing to a wide audience. Hoping to sell 100's of the practical, stylish and eco-friendly tote bags, all will feature a poignant and evocative image, designed by a student.
"Net proceeds will go to support our hungry students and families," says Chloe.
Her plan and ultimate goal are nothing, if not enterprising. With determination and a subtle forcefulness rare in someone so young, Chloe managed to engage the Foundation into a partnership – one that we whole-heartedly embrace.
Please send designs to chloekim672@gmail.com as b/w in pdf, png, AI, ESP, JPEG or Tif with a transparent background. All designs need to incorporate the Langley School District Foundation logo. Deadline for submissions is Friday, March 12 at 4:00 pm. The winner will be announced on April 1, 2021. Good luck and thank you for participating in this project.
Environmentally friendly tote bags featuring winning design will be available for purchase online at www.langleyschooldistrictfoundation.com.
SKILLS ASSESSMENT (FSA) - CHANGE OF ADMINISTRATION DATES - GRADE 4 FAMILIES
The BC Ministry of Education has adjusted the administration dates for this year's Foundation Skills Assessment (FSA).  All Langley students in grades 4 and 7 will now complete the FSA in the new administration window between February 15 and March 12, 2021.  Parents of students in grades 4 and 7 would have received a letter in September from Gord Stewart, Superintendent of Langley Schools, regarding the annual Foundation Skills Assessment (FSA) for the 2020/2021 school year.  The letter indicated that this year's FSA would be administered between October 5 and November 13, 2020.  The remainder of the information outlined in the letter still applies and if parents have any questions regarding the FSA, they should contact their school's Principal.
2021-2022 KINDERGARTEN REGISTRATION
Kindergarten registration across the Langley School District runs January 18 – March 31, 2021. If your child will be five years old by December 31, 2021, you will be able to register either online or in person at your catchment school.  Proper documentation is required at the time of registration.  Your child's registration will not be processed without the required documentation.
Registration will not be available at the school during Spring Break, from March 13 –28, 2021.
Please check our school website for specific information about how to register beginning January 18.
Due to COVID-19 health and safety guidelines, the process for registration and collecting documents may be different this time. For information and instructions on how to register, please click here —> Kindergarten Registration 2021 and for the Student Registration Form click here —> Student Registration Form_20212022
Although your child's Care Card is not a required document, it is an important piece of information for the school to have.  Please make sure you have indicated any medical concerns or information that the school should be aware of (i.e. asthma, allergies, etc.).  If you have copies of any medical documents or diagnostic reports for learning or physical needs, please also have a copy of the original (a copy can be made at the school).  Please also have a copy of any Court Orders regarding custody so the school can have a copy on file.
MESSAGE FROM THE BLACKLOCK PAC
Here are the Minutes from the latest PAC meeting –>  PAC Meeting – Jan 21, 2021
FAMILY PORTAL in MyED BC
Here is a poster for help with passwords –>  FamilyStudent Portal Poster (2020 Tri 1 and 2)
Below are links to two videos that offer some help in accessing the Family Portal in MyED BC:
How to Access the Family Portal
DAILY HEALTH CHECK
Thank you for completing the Daily Health Check with your child and doing your part to ensure our school community is healthy and safe.
Health Check Form – Revised 2020Sep
Please read the Daily Health Check Form (by clicking on the above link) and use it as a reference when completing the daily health check with your child.
INFORMATION ABOUT SCHOOL STATUS DURING INCLEMENT WEATHER
Snow closures and power outages are an annual occurrence in Langley School District. So, where do you go to get information about the status of schools during periods of inclement weather? If you are able to access the internet via computer or smartphone, current information about Langley schools can be accessed on all school websites or www.sd35.bc.ca. Updates are also posted to Twitter @LangleySchools and Facebook at www.facebook.com/langleyschooldistrict. If you don't have internet connectivity but your phone is working, call a relative or friend in an area that has not been affected by the storm and ask them to check the district website for you. Local radio stations are also informed of school status in Langley. Tune in to CKWX 1130AM, CKNW 980AM, Country Radio 107.1FM, Pulse 107.7 or CBC 690AM or 88.1FM for updates.
Please note that Langley District schools are all considered 'open' until a decision to close is required. Decisions on school closures are usually made by 6:30am. As always, it is a parent's decision whether to send their child to school based on safety and individual circumstances. If you feel it is unsafe for you or your child to travel to or attend an open school for any reason, please keep your child home and report an absence to the school.
CALENDAR
Here are the upcoming events:
March 5 – Term 2 Report Cards Published
March 10 & 11 – One Hour Early Dismissal for Parent/Teacher Interviews
March 12 – Last Day prior to Spring Break
March 29 – School reopens
April 2 – Good Friday – Statutory Holiday
April 5 – Easter Monday – Statutory Holiday
May 21 – Pro-D Day – Students not in Attendance
May 24 – Victoria Day – Statutory Holiday
June 29 – Final Report Cards Published & Last Day prior to Summer Break
---
For access to our District Community Bulletin Board, please click here:  Community Bulletin Board.      There are always new flyers that may be of interest to you.