January 18, 2019
This week, Blacklock's opportunity to shine in the Arts was demonstrated through an excellent two days of workshops, culminating in a performance that showcased the drumming that our students learned.  They explored African and Brazilian cultures and the importance of drumming, not only to entertain, but also to send messages throughout their communities. This opportunity was made possible by Mr. Huang and a big thank you goes out to him!
Last night I had the pleasure of attending the Langley Secondary School's evening of dance, which featured 14 extraordinary dancers from our school.  I must say, they stole the show!  The partnership that we are creating between Blacklock, HD Stafford, and Langley Secondary is certainly providing exciting opportunities for our students to continue their love of dance once they leave us.  Thank you to Mrs. Hillier for making this possible.
KINDERGARTEN REGISTRATION OPENS Monday, January 21, 2019
All children who will be five years old by December 31, 2019 (children born in 2014) are eligible for the Kindergarten program beginning September 3, 2019.
Registration opens Monday, January 21, 2019 and will be open until noon Monday, April 1, 2019. All registration takes place at neighbourhood schools and is not available at the School Board Office. Registration is not available during spring break (March 18 to March 29).
The following documents are required at the time of registration:
Student Proof of Age (Birth Certificate or Passport).
Parents Proof of Canadian Citizenship or Permanent Resident Status (Canadian Birth Certificate, Canadian Citizenship Card, Canadian Passport, Secure Certificate of Indian Status (SCIS/Status Card), Permanent Resident card, Refugee documents from Immigration Canada), and
Parents Proof of residence (BC Driver's License, utility bill or Mortgage Papers, Property Tax Notice,  Subject-free purchase agreement (move in date within 6 months).
If able, please bring your vaccination records (optional).
————————————————————————————————————————————
If interested, you can check out the information about SD#35's Outdoor Ed choice program…….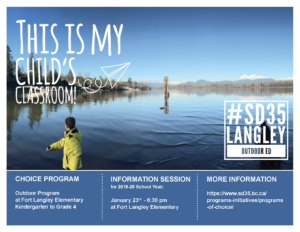 Drumming Workshops
It has come to our attention that, due to a technological problem, parents did not receive the e-mail informing them of an in-school drumming workshop opportunity.  On January 16 and 17, we had an African/Brazilian Drumming Experience for all our students, where each class participated in two 45 minute workshops, which culminated in a performance on the second day as they performed the skills they learned in the workshops.
Whereas the total cost per student for these workshops was actually $6, the school subsidized this cost by paying for half and so this experience was available to your child for only $3.  We would ask parents to take care of this by going to School Cash Online or sending payment to your child's teacher.  We apologize for any inconvenience that this may have caused.
Blacklock Talent Show
It's once again time to celebrate the many talented students we have at Blacklock!  Please join us for auditions taking place from February 12th – 22nd , 2019. Please sign up on the forms outside of the office. Any talents are welcome. In the past we have had students dance, sing, perform monologues or poetry, tell jokes, perform magic tricks, demonstrate karate moves, play instruments, show their gymnastics skills, and share many other things.  Any ideas you have are welcome!
If your act is selected you will be performing on March 7th, 2019 at 1:15 for the students in the school and at 6:00 for parents and family members. Tickets will be available for purchase closer to the date.
We look forward to seeing your talents!
If you have any questions, please contact Mrs. Cheryl Hillier at chillier@sd35.bc.ca.
The Dragon's Tale Challenge
Blacklock students have been challenged by Norbert the Dragon to read as many books as they can!
Each student received a bookmark to keep track of their reading.  The challenge is to complete as many bookmarks as possible by the end of June.  Grade K-3 need to record every 10 minutes of reading on their bookmark and Grade 4-5 need to record every hour of reading on their bookmark.  You can get extra bookmarks from the teacher.  Hand in your completed, coloured bookmark and receive a scale which will be added to Norbert the Dragon's tail.  If you have any questions, please talk to your teacher.
CALENDAR
Here are the upcoming calendar updates:
January 21 – Kindergarten Registration for September 2019 Begins
January 25 – Treat Day – $1.00/treat; limit one per student
– Last day to order Hot Lunch for February 4
February 4 – Hot Lunch Day
February 5 – PAC Meeting @ 7:00pm
February 6 – Early Dismissal @ 1:30pm for Collaboration Day
February 12-22 – Talent Show Auditions
February 15 – Pro-D Day – No School for Students
February 18 – Family Day – No School for Students
Have a great weekend!
Susanna Eppich, Principal
---
For access to our District Community Bulletin Board, please click here:  Community Bulletin Board.      There are always new flyers that may be of interest to you.