January 21, 2021
Kindergarten registrations began this week and it's been wonderful meeting and welcoming some of our new families to our school.  It made me realize how much I miss seeing our parents and I'm sure you are missing seeing the accomplishments of your children.  Therefore, below are some photographs of the beautiful displays that grace our hallways.  I'm pleased to let you know that Miss Dobbie and Miss Carlyn's Grade 3 students' artwork is being featured in the display cabinet at the School Board Office.  When this display has been installed and is ready for viewing, we will include photos of it in a future newsletter.  Congratulations Blacklock!  Once again, the District has requested that your art be showcased for both staff and visitors to enjoy!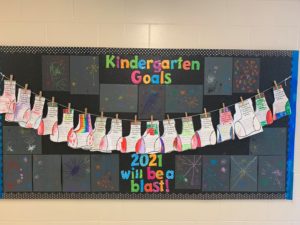 We have decided to make every Friday a House Shirt Spirit Day!  Please encourage your child(ren) to wear their House shirts tomorrow and every Friday to earn points for their Houses.  It's not really a problem if you forget, because that will give the Deck of Cards House (Staff) a much needed chance to catch up.
If you have a child at home that will be turning 5 this year and you plan to send them to Kindergarten in September, registration is underway.  Please see below for more details.
House points are as follows:
Mome Raths – 6,501; White Rabbits – 6,524; Cheshire Cats – 6,391; Deck of Cards – 6,060
Here's hoping that this beautiful weather continues into the weekend!  Have a good one!
Susanna Eppich, Principal
MIDDLE YEARS DEVELOPMENT INDEX
Dear Parents and Guardians of Students in Grades 5, 6 and 8,
The Langley School District has partnered with the Human Early Learning Partnership (HELP) at UBC to invite students to take part in completing the Middle Years Development Instrument (MDI). The MDI is a self-report questionnaire that asks children in Grades 4 to 8 about their thoughts, feelings and experiences in school and in the community. The survey questions align with the BC Ministry of Education's K-12 curriculum which includes a focus on promoting children's personal and social competencies.
The questionnaire will be administered between February 5th and March 5th, 2021.
Your Grade 5 child should have brought home an informed passive consent letter with more information about their participation in the MDI. Please complete the form that was attached to that letter if you DO NOT wish your child to participate, or contact the project staff at mdi@help.ubc.ca. The MDI is voluntary; Grade 5 children can choose whether they would like to complete the questionnaire.
SKILLS ASSESSMENT (FSA) - CHANGE OF ADMINISTRATION DATES
The BC Ministry of Education has adjusted the administration dates for this year's Foundation Skills Assessment (FSA).  All Langley students in grades 4 and 7 will now complete the FSA in the new administration window between February 15 and March 12, 2021.  Information on the exact dates students will write their FSA's will be provided by your child's classroom teacher in the coming weeks.  Parents of students in grades 4 and 7 would have received a letter in September from Gord Stewart, Superintendent of Langley Schools, regarding the annual Foundation Skills Assessment (FSA) for the 2020/2021 school year.  The letter indicated that this year's FSA would be administered between October 5 and November 13, 2020.  The remainder of the information outlined in the letter still applies and if parents have any questions regarding the FSA, they should contact their school's Principal.
2021-2022 KINDERGARTEN REGISTRATION
Kindergarten registration across the Langley School District runs January 18 – March 31, 2021. If your child will be five years old by December 31, 2021, you will be able to register either online or in person at your catchment school.  Proper documentation is required at the time of registration.  Your child's registration will not be processed without the required documentation.
Registration will not be available at the school during Spring Break, from March 13 –28, 2021.
Please check our school website for specific information about how to register beginning January 18.
Due to COVID-19 health and safety guidelines, the process for registration and collecting documents may be different this time. For information and instructions on how to register, please click here —> Kindergarten Registration 2021 and for the Student Registration Form click here —> Student Registration Form_20212022
Although your child's Card Card is not a required document, it is an important piece of information for the school to have.  Please make sure you have indicated any medical concerns or information that the school should be aware of (i.e. asthma, allergies, etc.).  If you have copies of any medical documents or diagnostic reports for learning or physical needs, please also have a copy of the original (a copy can be made at the school).  Please also have a copy of any Court Orders regarding custody so the school can have a copy on file.
MESSAGE FROM THE BLACKLOCK PAC
Here are the Minutes from the PAC meeting in December –> PAC Meeting Minutes – December 2020
MESSAGE FROM THE DPAC
Here is a link from BCCPAC:
https://www.facebook.com/153750724696021/posts/5250930684977974/?d=n
Interested to share your stories, struggles and successes during the COVID-19 pandemic? Participate in the BC Children's Hospital Personal Impacts of COVID-19 survey!
Adults and kids aged 8-18 years can participate at https://bit.ly/3fgr7mz and enter to win a prize.
FAMILY PORTAL in MyED BC
Below are links to two videos that offer some help in accessing the Family Portal in MyED BC:
How to Access the Family Portal
DAILY HEALTH CHECK
Thank you for completing the Daily Health Check with your child and doing your part to ensure our school community is healthy and safe.
Health Check Form – Revised 2020Sep
Please read the Daily Health Check Form (by clicking on the above link) and use it as a reference when completing the daily health check with your child.
INFORMATION ABOUT SCHOOL STATUS DURING INCLEMENT WEATHER
Snow closures and power outages are an annual occurrence in Langley School District. So, where do you go to get information about the status of schools during periods of inclement weather? If you are able to access the internet via computer or smartphone, current information about Langley schools can be accessed on all school websites or www.sd35.bc.ca. Updates are also posted to Twitter @LangleySchools and Facebook at www.facebook.com/langleyschooldistrict. If you don't have internet connectivity but your phone is working, call a relative or friend in an area that has not been affected by the storm and ask them to check the district website for you. Local radio stations are also informed of school status in Langley. Tune in to CKWX 1130AM, CKNW 980AM, Country Radio 107.1FM, Pulse 107.7 or CBC 690AM or 88.1FM for updates.
Please note that Langley District schools are all considered 'open' until a decision to close is required. Decisions on school closures are usually made by 6:30am. As always, it is a parent's decision whether to send their child to school based on safety and individual circumstances. If you feel it is unsafe for you or your child to travel to or attend an open school for any reason, please keep your child home and report an absence to the school.
CALENDAR
Here are the upcoming events:
February 12 – Pro-D Day – Students not in Attendance
February 15 – Family Day – Statutory Holiday
February 22 – Design & Assessment Day – Students not in Attendance
February 23-26 – Diversity & Respect Week
March 5 – Term 2 Report Cards Published
March 10 & 11 – One Hour Early Dismissal for Parent/Teacher Interviews
March 12 – Last Day prior to Spring Break
March 29 – School reopens
April 2 – Good Friday – Statutory Holiday
April 5 – Easter Monday – Statutory Holiday
May 21 – Pro-D Day – Students not in Attendance
May 24 – Victoria Day – Statutory Holiday
June 29 – Final Report Cards Published & Last Day prior to Summer Break
---
For access to our District Community Bulletin Board, please click here:  Community Bulletin Board.      There are always new flyers that may be of interest to you.