June 19, 2020
Congratulations to our Grade 5 students, who participated in their Farewell Ceremony on Wednesday night!  It was a unique and emotional experience, as we had to observe all the rules in place due to the pandemic.  Students were welcomed to the ceremony by Miss Carlyn, our Aboriginal Support Worker, who blessed them with a song.  I shared my heartfelt congratulations and encouraged the students and their families with the challenge of 'Why Not Me?'.  Students walked through the hall one last time and received a 'Middle School Survival Kit' and their Grade 5 Leaving Certificate.  As they exited the building, they were cheered on by some of our staff and then were met by our Blacklock violin students, who performed two pieces to celebrate each division.  Special thanks to Mr. Peter and Miss Andrea for directing this musical send off!  I would also like to thank all of the staff who have journeyed with these students from Kindergarten to Grade 5 and to those who helped to make the evening unforgettable!
Here are some photographs of our 'physically distant' celebration: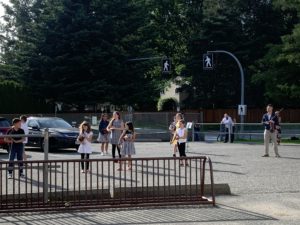 As our Grade 5s transition to HD Stafford, please note that the usual transition activities have been postponed.  I have worked closely with the Administration of HD Stafford to ensure that our students will be afforded opportunities to feel comfortable moving into their new environment.
At this time, we are unable to conclusively say what September will look like.  Therefore, school supply lists will be provided to you as soon as the Ministry of Education and the Langley School District have identified to us what the return to school will look like.  This could be as late as the first week in September.  No matter what our return to school looks like, be assured that all staff will continue to work together to support all of our students.  We appreciate your patience and trust during these complicated times.
Those of you who ordered a Grade 5 Hoodie for your child will be able to come by the school to pick it up on Monday, June 22, between 10:30am and 12:00pm.  If you are unable to make this time, please e-mail sweber@sd35.bc.ca to make alternate arrangements.
If your son/daughter borrowed technology (iPad) from our school, it needs to be returned prior to Thursday, June 25.
Also, at this time, there are over 500 borrowed books that are outstanding.  If you have a Library book or any book that belongs to our school, please drop them off in the bins provided at the front of the school as soon as possible.  We will seek reimbursement from the borrower for any books that are not returned.
Don't forget to advise the office if you plan on sending your child to a different school in September.
Have a good weekend!
Susanna Eppich, Principal
HOUSE POINTS
The final tallies and the announcement of this year's winning house will be available in next week's Blacklock Blast.  House points can still be submitted to housepointsbfa@gmail.com up until 4pm on Monday, June 22nd.
BLACKLOCK KM CLUB
On Thursday, June 25th, between the hours of 10:00am and 11:00am, feet will be available for pickup from the table outside the Main Entrance for any children who have achieved the next level in the KM Club for the month of June.  Please do not come to the school unless you have received an e-mail advising that you are to pick up the foot award for your child. We appreciate everyone's participation in Blacklock's KM Club this year and we look forward to starting up the program again in September 2020.
Mr. and Mrs. Huang
2/3 POD - END OF YEAR SLIDESHOW
An end of year slideshow for the Congo Pod is available for viewing on the Congo Pod Website on Week 11 (Thursday June 25th): https://themischievouslibr.wixsite.com/congopod/copy-of-week-9-1
BLACKLOCK LIBRARY
Library books and Bookroom Books need to be returned as soon as possible to the school. Please return books by placing them in the Library Book Bin located outside the school's front doors. The bin will be available every day for the last week of June.
There are 500 books still outstanding and we would appreciate their return so that they can be catalogued and shelved before the end of the year.
Mrs. Huang and Mrs. Maclean
REPORT CARDS and FAMILY PORTAL IN MyED BC
Please login to your Family Portal account as soon as possible to ensure that you have access prior to the publication of your child's report card on June 25.  More information can be found here –>  SD35FamilyStudent Portal
If you need help with the Family Portal, you can click here –> Family Portal Help
CALENDAR
Here are the upcoming calendar events:
June 19 – National Indigenous People's Day
June 22 – Grade 5 Hoodie Pickup – 10:30am to 12:00pm
June 25 – Last Day of School for Students & Final Report Cards Published
June 26 – Administrative Day – School Closed
—————————————————————————————————————–
For access to our District Community Bulletin Board, please click here:  Community Bulletin Board.      There are always new flyers that may be of interest to you.