June 23, 2021
Despite the 2020-2021 School Year having been very challenging on so many levels, our students and staff have shown over and over again their resilience.  I am so proud of each and every one of them and was particularly moved on Monday when we, as a school, came together to honour First Nations Indigenous People's Day.  Despite the heat and the excitement of being in our Outdoor Teaching and Performing Space as a school for the very first time, our students understood the solemnity of the occasion and the significance of the tying of 215 orange ribbons on our fence.  They sat quietly and acknowledged a minute of silence in memory of those that we lost and those who survived Residential Schools.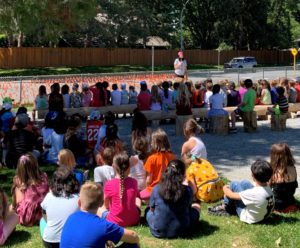 As was referenced in the e-mail that was sent out to you a couple weeks ago, here is the link to download the videos of events from the past year:  Blacklock Fine Arts 2020/2021 Videos
There are seven videos, which include the Grade 4/5 Pod Show 'We Belong', the year-end Violin Concert, the Jabberwock, the Remembrance Day Ceremony, Halloween events, Christmas events, and the Grade 5 Farewell Slide Show.  Please note that this link is only available until July 13 and so it is strongly recommended that you download whatever videos you are interested in as they will not be available after that date.  Donations for these videos can be made through School Cash Online up until June 28.  Any monies received will go towards our show costs, our Arts budget, and building a roof for our outdoor classroom. We appreciate any donations that you feel inclined to give. 
I wish all of our Grade 5s much success as they journey on to Middle School.  Blacklock Fine Arts has given you a solid foundation and we look forward to seeing where the next stage in your journey takes you.  Here are a few pictures from yesterday's event:

Edupac orders were sent home yesterday.  If you have any questions regarding those orders, please contact Edupac directly.  If you chose to go out and buy your own supplies for September, see the paragraph below for access to the lists.
The final announcement of House Points will happen on the morning of June 29th.  As of right now, the Deck of Cards is in the lead.
Report cards will be published on Tuesday, June 29th in the morning and this is a reminder that your children will be dismissed for the final time on that day at 10:45am.
In closing, I would like to take this opportunity to thank you all for your ongoing support of our students and staff.  By pulling together it feels as though we, as a school community, got the upper hand on COVID and in so doing were able to ensure that our students stayed safe and healthy and were able to continue in-class instruction.
I wish all of you a well-deserved, restful, safe, healthy, and happy summer filled with opportunities to make memories that will last a lifetime.
I look forward to welcoming you all back to school on September 7th (11:30am-1:00pm).
Happy Summer Break!
Susanna Eppich, Principal
FAMILY PORTAL in MyED BC
Here is a poster for help with passwords –>  FamilyStudent Portal Poster (2020 Tri 1 and 2)
Below are links to two videos that offer some help in accessing the Family Portal in MyED BC:
How to Access the Family Portal
2021/2022 SCHOOL SUPPLIES
If you'd still like to use the Edupac service to buy your school supplies for next year, you can go online to edupac.ca to do so.  Instructions are printed on the back of the order form that was sent out to you a couple weeks ago.  Extra forms are available at the Office.  Lists for next year's school supplies can be found here –>  School Supply Lists for Grades 1-5 – 2021-2022
SUMMER READING PROGRAM
Summer Reading Club is happening again at all FVRL libraries this summer.  Online registration began on June 1.  Information about how to register can be found at www.fvrl.ca.  Please click this link to find out more information about the program.—-> Summer Reading Club 2021 Letter to Parents
CALENDAR
Here are the upcoming events:
June 29 – Final Report Cards Published & Last Day prior to Summer Break
– Dismissal at 10:45am
September 7 – School Reopens
---
For access to our District Community Bulletin Board, please click here:  Community Bulletin Board.      There are always new flyers that may be of interest to you.