March 1, 2019
Two weeks to go before Spring Break!  This week at Blacklock we celebrated Freedom to Read and Respect & Diversity Week.  The Kindergarten and Grade 1 students also celebrated the fact that we've been in school for 100 days!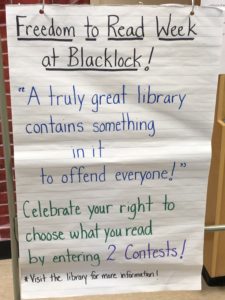 Teachers, too, have been busy preparing report cards and getting ready for upcoming student-led conferences and parent/teacher interviews.  We would encourage you to read your child's report card once it's published at the end of the day on March 8th in preparation for these upcoming meetings with the teacher.  For help on logging in to the Family Portal, please see below.  Please see the Lost & Found Items section below to identify any items that your child may have lost.
House points have been awarded and the current scores are:
Gryffindor – 4,513     Hufflepuff – 4,482     Ravenclaw – 4,479     Slytherin – 4,334
BLACKLOCK TALENT SHOW
Blacklock's Got Talent 2019 takes place next week!  Selected students will be performing on Thursday, March 7th, at 1:15pm for the students in the school and at 6:00pm for parents and family members. Tickets are now available for purchase through School Cash Online or at the Office for $5 per single ticket and $10 per family ticket (2 parents and their immediate children).  Please join us to celebrate the many talents of our students!
If you have any questions, please contact Mrs. Cheryl Hillier at chillier@sd35.bc.ca.
PAC FUNDRAISING
The PAC is fundraising with Purdys Chocolatier, just in time for Easter! Paper catalogues will be sent home with students later in the month, but please note that orders are accepted online only.
ORDERING DEADLINE: APRIL 1
ORDER PICKUP: APRIL 9 AFTER SCHOOL NEAR THE SCHOOL ENTRANCE
If you'd like to support the Blacklock PAC through purchasing some very sweet Easter gifts for friends, family and yourself, please click the link below:
After you've signed in you can buy amazing chocolates and/or invite others to join and support the Blacklock PAC's Fundraising Campaign.
Plans are underway for a Pub Night Fundraiser……..stay tuned for more details!
TERM 2 REPORT CARDS
There is one week to go before Term 2 Report Cards are published online.  We would encourage you to try to login to your MyEd BC Family Portal Account as soon as possible.  This will ensure that you can get online and are ready to access your child's report card on March 8.  If you have any trouble getting online, please feel free to contact the office for assistance.  For help on how to login, click here –> Reminder-Family Portal-Report Cards and here –>  SD35 Family Portal
LOST & FOUND ITEMS
There are many Lost & Found Items….please see if anything looks familiar.  Anything that has not been claimed by the end of the day on March 15 will be donated to charity.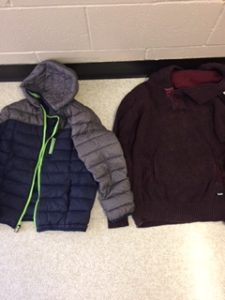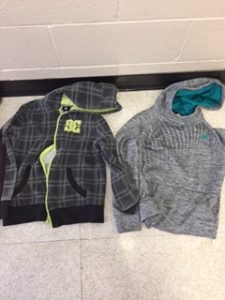 KINDERGARTEN REGISTRATION OPEN
All children who will be five years old by December 31, 2019 (children born in 2014) are eligible for the Kindergarten program beginning September 3, 2019.
Registration is open now and will be open until noon on Monday, April 1, 2019. All registrations take place at neighbourhood schools and is not available at the School Board Office. Registration is not available during spring break (March 18 to March 29).
The following documents are required at the time of registration:
Student Proof of Age (Birth Certificate or Passport).
Parents Proof of Canadian Citizenship or Permanent Resident Status (Canadian Birth Certificate, Canadian Citizenship Card, Canadian Passport, Secure Certificate of Indian Status (SCIS/Status Card), Permanent Resident card, Refugee documents from Immigration Canada), and
Parents Proof of residence (BC Driver's License, utility bill or Mortgage Papers, Property Tax Notice,  Subject-free purchase agreement (move in date within 6 months).
If able, please bring your vaccination records (optional).
CALENDAR
Here are the upcoming calendar updates:
March 5 – PAC Meeting @ 9:00am
March 7 – Talent Show @ 6:00pm
March 8 – Term 2 Report Cards Published
– Treat Day – $1.00 each/limit 1 per student
March 11 – Hot Lunch Day
March 12 – OWL (K/1) Pod Show 'Seasons' @ 9:15am
March 13-14 – Parent/Teacher Interviews – Early Dismissal @ 1:45pm on both days
March 15 – Last Day Prior to Spring Break
April 1 – School Reopens
Have a good weekend!
Susanna Eppich, Principal
---
For access to our District Community Bulletin Board, please click here:  Community Bulletin Board.      There are always new flyers that may be of interest to you.