May 2, 2018
We're looking forward to the UFO's pod show 'Reptiles', which will happen tomorrow at 1:30pm for the school & 6:00pm for family and friends.  After school tomorrow and before the pod show at 6:00pm, the students have arranged for a Bake Sale to support the 'Reptile Guy' in his ongoing cause to continue educating students.

The past two weeks have been busy in the Blacklock Gardens. Students have harvested our winter vegetables and pulled out leafy pink rhubarb stems. With the help of Mrs. Swinimer and Ms. Lou Lou students made a "beautiful soup rich and green" and shared it with the staff. Rhubarb streusel muffins were baked by Teya, Cece, and Diego, and served to their classmates along with sun tea. We love our gardens here at Blacklock.

As part of the Applied Design Skills & Technologies curriculum, Mrs. Royer's Kindergarten children, along with their Grade 5 big buddies in Mrs. Hillier's class, produced masterpieces from simple cardboard boxes and basic art supplies.  Check out their creative approach to this unique project in the 'Not A Box Project' three part series below:
On Tuesday evening, the Blacklock Twirlers had the privilege of performing at the May meeting of the Board of School Trustees.  They were received with great appreciation and admiration!  The students, under the direction of Mrs. Leblanc, performed with excellence.  Way to go Blacklock Twirlers!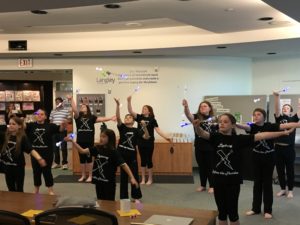 Over the past several weeks, Mrs. Royer's Kindergarten class has been waiting and watching for their classroom chicks to hatch and now they have begun to make an appearance!  It has been very exciting for them as they welcomed fourteen new chicks into their classroom over the past two days!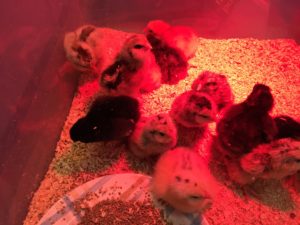 In support of our ongoing partnership with the Langley Community Music School, we'd like to invite you to 'Sound Tracks Live' a free children's concert, featuring the Rose Gellert String Quartet on Saturday, May 5, at 1:00pm at the Langley Community Music School.  They will have an Open House commencing at 12:30pm – 2:30pm on May 5 as well.

As a reminder, tomorrow, Friday, May 4, is Professional Development Day and students will not be in attendance.  Have a great weekend everyone!
Please make note of the following calendar updates:
May 4 – Professional Development Day – Students do not attend
May 7 – Pizza Hut Hot Lunch Day
– PAC Meeting – 7:00pm
May 8 – Class Group & Panorama Photos
May 1 – Kinder Starts (for 3 & 4 year olds) 'Numeracy' – 1:00pm-2:30pm
May 10 – Collaboration Day – Early Dismissal @ 1:30pm
May 17 – Nebula (Grade 4/5) Pod Show 'Living Poetry' – 1:30pm & 6:00pm
---
For access to our District Community Bulletin Board, please click here:  Community Bulletin Board.      There are always new flyers that may be of interest to you.