November 23, 2018
It's been a fantastic week at Blacklock!  All twelve divisions have completed Step 1 of the quest to receive their T-Shirt.  Here are a couple pictures of some commitment letters….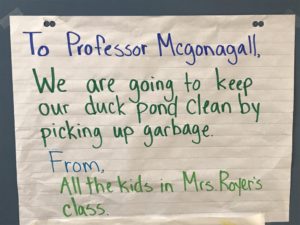 Professor McGonagall and Professor Dumbledore have been impressed by the thought that was put into ways to give back to our school.  On Tuesday, all students will receive a specially created cupcake for their afternoon snack.  The two professors look forward to delivering these to the classrooms.  Pictures will be displayed in next week's Newsletter.
Don't forget to come out and support the PAC's fundraising efforts at our third annual Craft Fair, which takes place tomorrow, Saturday, November 24, 10:30am-3:00pm, in our Gym.  More details can be found below.
As a reminder, Monday, November 26, is Report Card Preparation Day and students will be dismissed at 10:45am.  Please make arrangements to have your child picked up at 10:45am, as there will be no supervision after that time.
As part of our ongoing plan to be prepared in case of emergency, this coming Wednesday, Nov. 28, we will be conducting a fire drill at 2:30pm, which will culminate with the students gathering on our field.  In order to mimic a real-life emergency, we will be dismissing the students directly from the field.  This drill will be weather-dependent….please check your e-mail on November 28 before coming to pick up your child to determine the pick-up location.
During the month of December, we would like to show the Philosopher's Stone (the first Harry Potter movie) to Divisions 5 through 8.  The dates for these viewings will be on Tuesdays (9:15-10:00am) and on Thursdays (2:00-2:45pm).  If you do not want your child to see the movie, please e-mail the principal at seppich@sd35.bc.ca so that we can make alternative arrangements for your child during that time.
CHRISTMAS STORE
Our Christmas Store happens on December 4 & 5…..for more details, go here –> Christmas Store
Please sign up on the doodle poll below if you can help with Christmas Store! 🎀 Mon, Dec 3 is setting up tables and gifts in the gym, Tues and Wed during school are selling and wrapping gifts, and Wed after school is putting the gifts and tables away. Thanks! 🎄 https://doodle.com/poll/wk5gmnerx5csxhfi
CRAFT FAIR
This Saturday is the Blacklock Parent Council Craft Fair fundraiser in our school gym from 10:30-3! We have over 40 unique vendors this year, plus a professional photographer photo booth by donation, face paint, concession, free kids' Letter To Santa craft table, concession with pizza lunch, bake sale, and raffle prizes. Some of our students also have tables with crafts for sale, so be sure to come out and support our fundraiser community event.
If you can help, please consider signing up for a 1.5 hour shift at the concession or raffle table: http://signup.com/go/raAKHMa
We are also collecting bake sale donations, which can be dropped off  at the PAC room in the gym on Friday.
MISCELLANEOUS
We have extra calendar magnets available.  If you would like an extra one, please come by the office to pick one up.
There are two weeks to go before Term 1 Report Cards are published online.  We would encourage you to try to login to your MyEd BC Family Portal Account as soon as possible.  This will ensure that you can get online and are ready to access your child's report card on December 14.  If you have any trouble getting online, please feel free to contact the office for assistance.  For help on how to login, click here –> Reminder-Family Portal-Report Cards-Dec14,2018 and here –>  SD35 Family Portal
CALENDAR UPDATES
Here are the upcoming calendar updates:
November 24 – Blacklock Holiday Market @ 10:30am-3:00pm in our Gym
November 26 – Early Dismissal @ 10:45am for Report Card Prep Day
December 4 – PAC Meeting @ 9:00am
December 4 & 5 – Christmas Store
December 13 – Christmas Singalong @ 6:00pm
December 14 – Term 1 Report Cards published online
December 20 – PAC-sponsored Christmas Dance – 5:30pm-7:00pm
December 21 – Pancake Breakfast with Santa & Last Day before Christmas Break
January 7 – School Reopens
Have a great weekend everyone!
Susanna Eppich, Principal
---
For access to our District Community Bulletin Board, please click here:  Community Bulletin Board.      There are always new flyers that may be of interest to you.