November 20, 2020
It's been a fantastic week of fun, fundraising, and fiction as we all participated in the Blacklock Read-A-Thon.  The photos below are only a few examples of what your children have been doing this week.  We are so grateful to the PAC, who have said that they will match our fundraising efforts up to $1,500.  If you have not yet participated in this event, there's still time!  Today wraps up this fun event, but donations can still be made online until 9:00pm tonight or cash can be dropped off on Tuesday morning before 9:00am.  We look forward to letting you all know the total funds raised!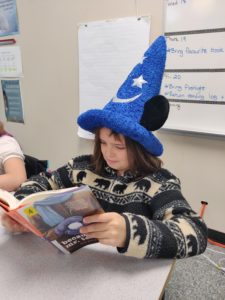 Don't forget that Monday, November 23, is Design & Assessment and Report Card Prep Day, which means there is no school for students.
We need to remind everyone, once again, of the need to slow down and obey the rules and signage of our parking lot.  The safety of everyone is at risk when these rules aren't followed.  Specifically, please note that the lot is one way only.
Given the rising numbers of COVID-19 cases, we are asking all parents to wear masks, to respect physical distancing, and to not loiter on the school grounds whenever you come to the school.  Of special note, we are a closed campus, which means that during school hours you should not be lingering on school property.  If you need to drop something off or pick up your child early, you must check in at the office.
Don't forget that every Tuesday and Thursday, we continue to sell Purdy's chocolate bars as part of our efforts to fundraise for our Christmas Hamper program.  Bars cost $2.00 each.  If you would like your child to be able to purchase one of these, please send some money to school with them on Tuesday or Thursday so that they can take part.  We will be offering these for sale until we run out of the chocolate bars.
Here are the current House standings:
Mome Raths – 2,066; White Rabbits – 2,099; Cheshire Cats – 2,125; and Deck of Cards – 1,986.
Have a good long weekend!
Susanna Eppich, Principal
DAILY HEALTH CHECK
Health and Safety continues to be our top priority. Thank you for completing daily health checks with your child and doing your part to ensure our school community is healthy and safe.
Health Check Form – Revised 2020Sep
Please read the Daily Health Check Form (by clicking on the above link) and use it as a reference when completing the daily health check with your child.
AGENDAS
Agendas are provided to you at a reduced cost of $5.00 and we ask that you submit payment through School Cash Online by October 31.  Please note that to register for the first time, you will need your child's legal name, Student ID#, and date of birth.  If you need help with signing up/logging into School Cash Online, please contact the Office.
CALENDAR
Here are the upcoming calendar updates:
November 23 – Report Card Preparation and Design & Assessment Day – No Students
November 25 – Neufeld Farms Fundraiser Order Pickup
November 27 – Darvonda Poinsettias Fundraiser Order Pickup
December 2 – Purdy's Fundraiser Order Pickup
December 11 – First Term Report Cards Published
December 18 – Last Day prior to Christmas Break
January 5 – School reopens
---
For access to our District Community Bulletin Board, please click here:  Community Bulletin Board.      There are always new flyers that may be of interest to you.