November 7, 2019
This week Blacklock Fine Arts celebrated Remembrance Day through dance, poetry, drumming, and music.  A big thank you to all of the staff and students for their hard work and dedication in making the ceremony unforgettable.  Tomorrow and Monday the school will be closed for Remembrance Day and I wish you all peace as we remember those who fought for our freedom.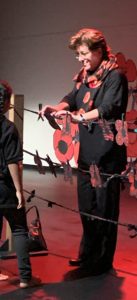 Photo retake took place today and proofs will be sent home as soon as they arrive at the school.  If you already placed an order for photographs from the first picture day and have not yet received your pictures, we have been told by Lifetouch that your pictures are still being processed.  They send out bunches of photos as they print them; therefore, completed orders will arrive in stages.
Remember………a new Blacklock Bedtime Story will be posted on:  Youtube: The Mischievous Librarian every Thursday night at 6:00pm.  Be sure to check it out!
Points have been added to each of the houses.  Here are the current standings:
Monkeys – 1,761; Parrots – 2,418; Geckos – 2,850; and Jaguars – 2,989.
Have a wonderful extra long weekend!
Susanna Eppich, Principal
INFORMATION FROM THE Parent Advisory Council "PAC"
The next PAC meeting will take place on Tuesday morning at 9:00am.  All are welcome to attend!
Here's the latest PAC Newsletter —-> PAC Newsletter Nov 7, 2019
Here are the minutes from the last PAC Meeting —> PAC minutes Oct 8, 2019
CALENDAR
Here are the upcoming calendar updates:
November 8 – 11 – School Not In Session
November 12 – PAC Meeting @ 9:00am
November 15 – Treat Day
November 23 – Craft Fair
November 25 – Report Card Prep/D & A Day – School Not In Session
December 3 & 4 – Christmas Store
December 6 – Hot Lunch Day
December 10 – PAC Meeting @ 7:00pm
December 13 – Term 1 Report Cards Published
December 19 – Christmas Concert
December 20 – Pancake Breakfast with Santa
December 21 – January 5 – Christmas Break
January 6 – School Reopens
---
For access to our District Community Bulletin Board, please click here:  Community Bulletin Board.      There are always new flyers that may be of interest to you.