October 31, 2019
It was a spooktacular day at Blacklock!  This afternoon, we had our annual Halloween parade led by Mrs. Anderson and then our dance-off, hosted by Mr. Huang and Mrs. Hillier.  As always, this event was filled with laughter and the creation of great memories.  Thank you to everyone who put in the extra effort to make this day so fun!  A reminder that tomorrow is KM Club, so dress your children appropriately as we will be outside, rain or shine.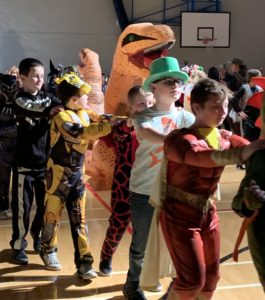 Don't forget………a new Blacklock Bedtime Story will be posted on the following Youtube channel:  Youtube: The Mischievous Librarian every Thursday night at 6:00pm.  Be sure to check it out!
Next week is our Remembrance Day Ceremony on Wednesday, November 6, at 10:30am in the Gym.  We would remind parents that students need to be wearing all black on that day and to bring a donation (we suggest a Loonie) for their poppy.
If your child needs a retake photo or was absent on the last photo day, please note that retakes will happen on Thursday, November 7, starting at 9:00am.  (If your child is having a photo retake, they need to bring their proof package on retake day and hand it to the photographer.)
As a reminder…..next week on Friday, November 8, and again on Monday, November 11, our school will be closed in honour of Remembrance Day.  Please enjoy the extra long weekend!
Points have been added to each of the houses.  Here are the current standings:
Monkeys – 1,531; Parrots – 2,059; Geckos – 2,380; and Jaguars – 2,298.
Have a safe and happy Halloween!
Susanna Eppich, Principal
INFORMATION FROM THE Parent Advisory Council "PAC"
Here's the latest PAC Newsletter —-> PAC Newsletter Oct 31 2019
Here are the minutes from the last PAC Meeting —> PAC minutes Oct 8, 2019
CALENDAR
Here are the upcoming calendar updates:
November 6 – Remembrance Day Ceremony @ 10:30am
November 7 – Photo Retake Day
– Hot Lunch Day
November 8 – 11 – School Not In Session
November 12 – PAC Meeting @ 9:00am
November 15 – Treat Day
November 23 – Craft Fair
November 25 – Report Card Prep/D & A Day – School Not In Session
December 3 & 4 – Christmas Store
December 6 – Hot Lunch Day
December 10 – PAC Meeting @ 7:00pm
December 13 – Term 1 Report Cards Published
December 19 – Christmas Concert
December 20 – Pancake Breakfast with Santa
December 21 – January 5 – Christmas Break
January 6 – School Reopens
---
For access to our District Community Bulletin Board, please click here:  Community Bulletin Board.      There are always new flyers that may be of interest to you.