Environment Club
The Environment Club at Blacklock is led by Ms. Johnson and Ms. Lou Lou. We had a fun year raising awareness about recycling within our Blacklock Community. We also held a plant sale raising funds for the construction of garden plots to hold healing herbs and indigenous plants.
BFA Productions
This leadership team, BFA Productions, is responsible for filming, editing, and producing videos that display life around Blacklock Fine Arts Elementary School. Students in the production company are trained to use various technology, and will receive instruction on storyboarding, camera angles, interviewing techniques, video editing, and much, much more! The company meets once a week after school, as well as during various lunch hours. Members are also occasionally asked to film special events in other classrooms or to record school assemblies and performances.
The Blacklock Twirlers
The Blacklock Twirlers recently performed in the school talent show. They shared some of their newly acquired skills and are now working on their routine for year end. It's guaranteed to be an "Imperial" performance.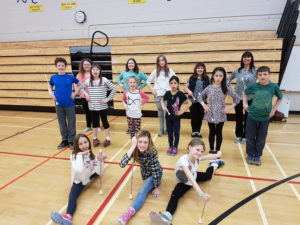 In the Past . . .
Creative Outplay
is an exciting extra-curricular performance club at Blacklock Fine Arts. After auditions in early September, the group of 20 grade four and five students rehearses a few times a week, both during lunch and after school. Throughout the year they are involved in a number of shows that creatively integrate drama and dance. Performances are written, directed, and choreographed by Angela Schmuland and Cheryl Hillier (drama and dance teachers), and shows always include student improvisation and choreography as well as prop building. Shows are always performed for the Blacklock community of students and parents, and towards the end of each school year, students from Douglas Park, Langley Fine Arts, and a few other elementary schools are invited to view Creative Outplay's special matinee performances.
One of Creative Outplay's most popular shows was "Would" (June 2012). In it, two characters find a piece of plywood and through dance, mime, and comical interplay, discover a multitude of uses for it. Another favourite was "The Midgkins" (June 2010), a show where three fairy-like Midgkins shrink down a boy and take him on a journey to find Skice, the Ice Queen. Once they find her, they use the help of the Pebble People to weaken Skice and get back their Spring Hums, enabling them to warm away winter and bring on spring. Last year Creative Outplay performed "A Whimsical Adventure," a show full of huge puppets, audience participation, and lots of magic! Tink and Fergus enlist the help of the Whimsical Children help them go on an adventure to find his lost courage.
Pacific Theatre in Vancouver (The Lion, The Witch, and the Wardrobe). Theatre critiques written by some of our students: http://www.soulfoodvancouver.blogspot.ca/2013/01/kids-say-darndest-things-wardrobe.html
TWU review of Blacklock Fine Arts year-end show:
https://twu.ca/about/news/general/2009/puppets-with-purpose.html
Interested in auditioning for Creative Outplay?
If you are in grade 4 or 5 and are interested in acting and dancing, please join Mrs. Schmuland and Mrs. Hillier in the Dance studio on Wednesday, October 1st at lunch time and after school from 3:00 – 4:30 to audition for Blacklock Fine Art's Drama and Dance club, "Creative Outplay." We are looking for enthusiastic, dedicated students who want to have some fun and improve their acting and dancing skills. The club will focus on integrating dance and drama together to create cohesive performances. We will be working towards a goal of performing at Christmas time (possibly), as well as a show toward the end of the year. Some possible activities and skills we will be working on are Dance and Drama improvisation, script and choreography memorization, prop/set design, and more. We will be rehearsing on Wednesdays after school from 3:00 – 4:30 and Thursdays at lunch hour. If you decide to audition, please make sure that you will be regularly available on Wednesdays from 3:00-4:30. It is very important to be committed to the club every week. During the audition you will be doing some acting and dancing activities. We will be looking for students with a positive attitude, ability to follow directions, ability to work cooperatively in a group, drama skills and dance skills. If you have any questions please come and ask either of us. We look forward to seeing you there!
Mrs. Hillier and Mrs. Schmuland